The Annual Gardendale Magnolia Festival is an award-winning, family-friendly event held at the Gardendale Civic Center complex. Our mission is to provide visitors with an economical, family-friendly experience while promoting local businesses, tourism, local arts and culture, and volunteerism in the greater Gardendale area. We have over 150 vendors, 2 stages of live entertainment, a pooch parade, midway-style carnival, car show, free kid zone, petting zoo/pony rides and more!
We are a two-time recipient of the Southeast Tourism Society's Top 20 Award which covers 11 states. The festival has also been named Top 10 Events for April-June, twice, when they were giving this award. Four of our food vendors were featured on Food Network and Cooking Channel's Carnival Eats in 2014.
Mt. Olive Rd is now Rocket Way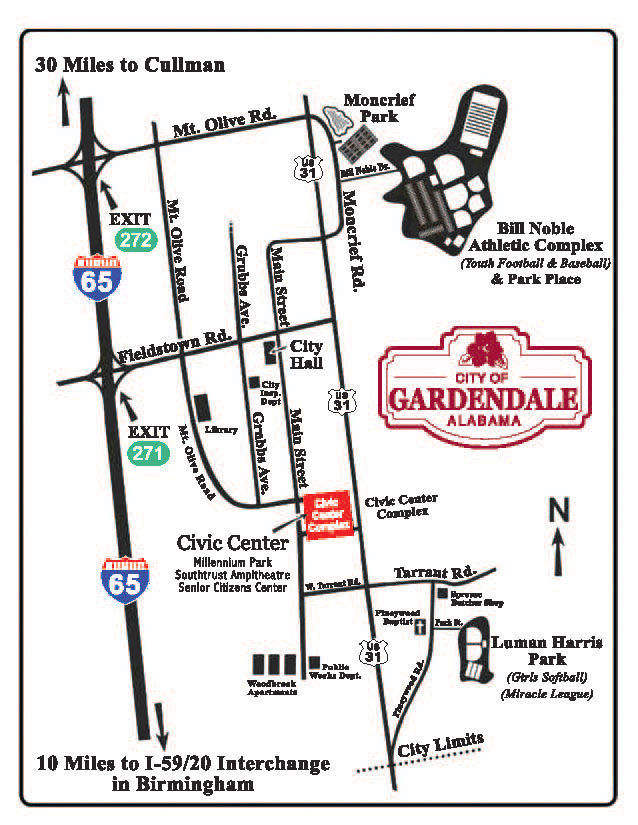 Map/General Information
Gardendale Civic Center – 857 Main Street – Gardendale, AL 35071
Location: Gardendale Civic Center, Gardendale First Baptist Church, Gardendale High School (Corner of Mt. Olive and Main Street).
Free Parking and Admission

Parking available at Gardendale High School, Civic Center,
In front of Gardendale First Baptist Church Lifeway Center
The Magnolia Express golf cart shuttles run all day Saturday.
Festival Handicap parking at Civic Center parking lot while available.
Other parking lots have established blue paint spots.
Pets
Dogs are allowed on leashes. They poop, you scoop!
Hotel Accommodations
RV Park
Brookside Greenway Park for RV's http://www.brooksidealabama.com